Who we are
Dr. Becky Valentine started Petderm with a passion for providing clinical expertise and ongoing support to owners with pets who suffer from allergic skin disease. Our goal is to understand, diagnose, treat, and improve the health of pets and their owners. Allergic pets can suffer for years, and Dr. Valentine wanted to build a centre of expertise and compassion that could end their suffering, and vastly improve quality of life.
While allergies make up the majority of cases in the patients we see, Dr. Valentine also treats pets with immune-mediated skin disease, endocrinopathies, and various other less-common dermatological diseases.
Petderm aims to make your itchy pet more comfortable. Since every pet with an allergic condition has different symptoms and different needs, treatment plans are part of a very challenging and intricate craft. You've likely tried multiple diets, many medications, and spent a lot of money on other vet appointments before you ended up at our door. As experts in this area, we're here to get answers sooner, and get you and your pet relief faster.
About Dr. Valentine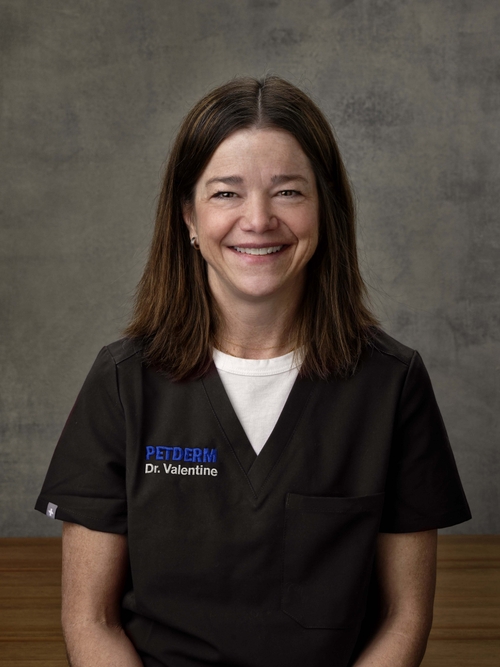 Dr. Becky Valentine
DVM, DACVD
Dr. Valentine was born and raised in Calgary and completed her Doctor of Veterinary Medicine from the Western College of Veterinary Medicine in 2001.After completing a rotating small animal internship at Ontario Veterinary College in 2002, Becky spent several years as an emergency veterinarian before returning to school to complete a residency in dermatology at the OVC. It was during her residency that she came to understand the profound impact that skin diseases and allergies can have on a pet and their family. She became board-certified in Veterinary Dermatology in 2015, and has made a huge difference in the lives of pets and their owners ever since.
Becky's interests include the treatment of antibiotic resistant skin infections and the diagnosis and management of allergic dermatitis in small animals and horses.